450 ml Rajguru Loha Tone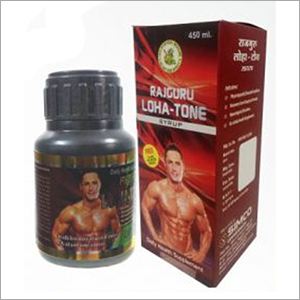 450 ml Rajguru Loha Tone
Product Description
Backed by a team of skilled professionals, we are engaged in offering 450 ml Rajguru Loha Tone. This is a daily health supplement & comes in syrup as well as capsule form. Various ingredients like Ashwagandha, Bhringraj, Shatavari, Dashmool, Shank Pushoi, Trifla, Rasna, Varahi Kand, Kaunch Beej, Manjeeth, Trikatu, Akarkara, Vacha, Loha Sava along with preservatives & flavours added are used in preparation of this product. 450 ml Rajguru Loha Tone is effective in conditions like Neurological disorders, Physiologically stressful conditions & Recovery from surgery trauma. All the ingredients used in this is completely safe to consume, also it is ayurvedic. For adults one can take 15ml twice daily preferably before meals.
Free caps for better results
Benefits :
Physiologically stressful conditions
Recovery from surgery trauma
Neurological disorders
As a daily health supplement.

Packing : 225 ml ( 30 Cap.) & 450 ml. (60 Cap)